Chattanooga trucking company Tranco Logistics marks 25 years of growth by keeping family-oriented culture.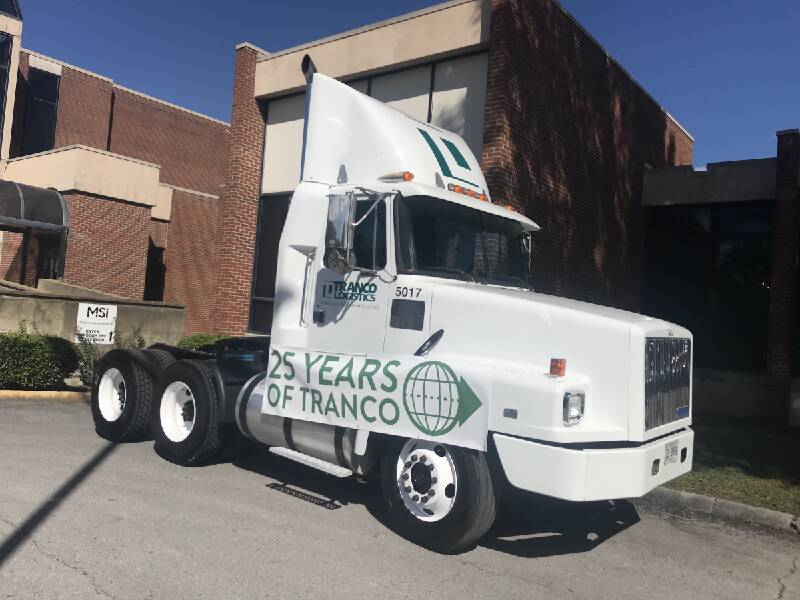 When Byron and Bruce Trantham started Tranco Logistics in 1995, many of those they talked with about their business didn't even know what logistics was.
But over the past 25 years, the company has grown into a global operation with 340 employees, and Chattanooga is now touting itself as the logistics capital of America. "I wish we would have tried to copyright the term," Byron Tranthom quipped during a celebration this week marking the company's silver anniversary. "We were one of the first commercial businesses to use the term "logistics" but now it seems like everybody is talking about it."
Tranco Logistics has grown over the past 25 years to include 192 trucks, including 31 purchased this year, and 542 trailers. The company has also added freight brokerage and other logistics support services over the years.
But for all of its trucking success, Tranco started simply as a warehouse operation with its first facility on 42nd street in south Chattanooga with a single truck. Bruce Trantham continued working at UPS for the first few years of the business while it got started and both Bruce and Byron drove trucks, unloaded freight and ran forklifts even as more warehouses were added and the business grew.
The twin brothers still have their class A driver permits to this day and they say they remain focused on the drivers, brokers, warehouse operators and other employees who are helping build the business.
"Our culture of service is what we focus on everyday," Bruce Trantham said. "If you want to know what I am talking about, go to Chick-Fil-A and observe their service orientation. That's what we try to do everyday."
Bryon Trantham said the owners maintain an open-door policy and work hard to keep workers happy.
"You'll never walk into Tranco and see people cussing or complaining because we work hard to build a culture to make this a place to work together, solve problems and be respected," said Chris Woodlief, a 42-year trucking industry veteran who has been president of Tranco for the past three years. "This is a different type of place to work than other companies I have been with."
As a result, Tranco averages about a 23% turnover in its staff, or less than a third of the average for the industry as a whole, Woodlief said.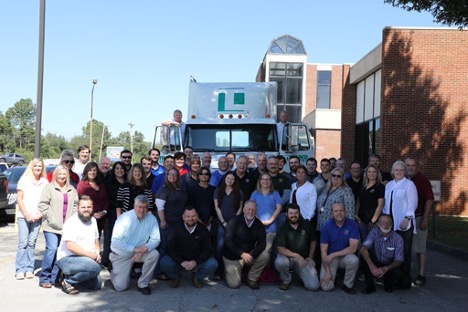 Byron Trantham said other trucking companies may offer a nickel a mile more in pay, but Tranco works to keep truck drivers on the road and driving more miles than other carriers "in trucks that we keep clean and running."
"We work to keep unloaded miles down to a bare minimum, so our average mileage is close to 3,000 miles a week on our over-the-road team so they end up with a bigger paycheck," he said.
Maintaining and building staff has been key to the growth of the company, Woodlief said.
Today, the Chattanooga-based company operates more than 2 million square feet of warehouse facilities and serves about 400 customers around the globe.
Most of the growth of the business has come since 2010. To support the operations, the entrepreneurial twin brothers have also added both a staffing and a finance firm. The personnel placement company, MSI Workforce Solutions, helps recruit and place workers in a variety of companies, including Volkswagen of America.
The Tranthams also operated a medical supply business, MWC Technologies LLC, before they sold that company in 2018 to Zeus Industrial Products.
But the Tranthams say they are not interested in selling Tranco, although they get frequent offers.
"We are a true full service logistics company with both asset- and non-asset based operations and we see a lot of opportunity for growth," Bruce Trantham said. "Our big growth in our freight brokerage business and our goal is to have offices in Chicago, Savannah (Georgia), Los Angeles and other major markets."
The company opened an office in Atlanta two years ago, but most of its operations remain in Chattanooga.